Michael Housewarming July '04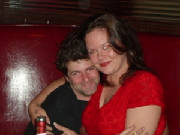 Michael & Andy B-day Sept '04
Michael, Molly, and Stephen 4/2006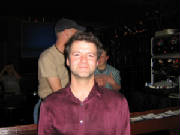 Michael 4/2006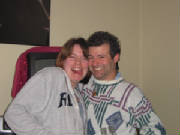 Michael and Jess 5/2006
Andy met Michael at Lucy's bar singing karoke. She fell in love with his stunning voice, and once they met, they became great friends. Michael is a nurse at HCMC, and lives in Saint Paul with two cats, Jasper and Angel.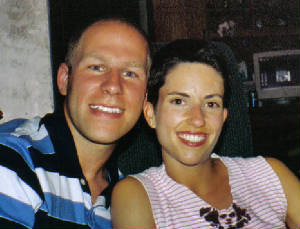 Gail & John Housewarming July '04
I met Gail & John at Lucy's bar on karoke night. They quickly became good friends to our whole group of friends. I haven't found anybody who doesn't love their company. They also live in Saint Paul, and they have two dogs (can't remember their names, sorry!)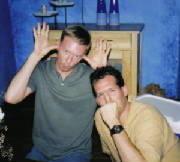 Terry & Andy Housewarming July '04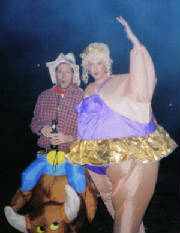 Terry & Andy Halloween '04
Terry and Andy, or more commonly known as T & A, became good friends of mine when I met them at the Townhouse, singing karoke. As you can tell they are very SPECIAL! They live in Minneapolis.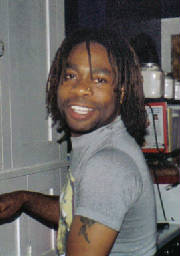 Dana Housewarming July '04
Mr. Dana Munson was met at (surprise, surprise) the Townhouse, yet again singing karoke. Dana works as the marketing director for Frank Theatre. He also is in many plays all across the metro area. If you ever run into Dana, ask him about the "apple story," you will laugh so hard you will wet your pants!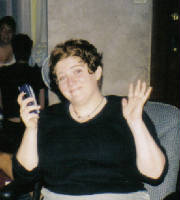 Jamie Housewarming July '04
Jamie 5/2006
Jamie was also met through Michael. She is recently going back to college. She lives in Saint Paul, and is the pet sitter for any of the friends who may need it.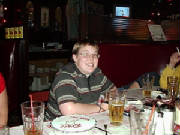 Crys B-day Sept '04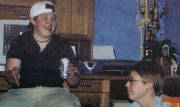 Crys & Michelle Housewarming July '04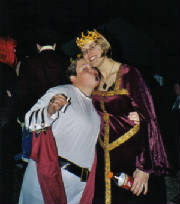 Crys and Michelle Halloween 2005
I met Crys at Lucy's. Crys and Michelle started dating this last summer. Between all of our busy schedules the most I get to do is text message one another and say we are going to get together soon.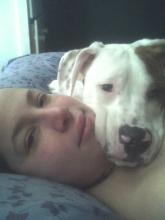 Dani and Mac 2006
Dani is a fantastic friend, and she has a beautiful dog named Mac, who I love being an Auntie to. She recently moved to New Mexico to go to school for Massage Therapy and I miss her horribly.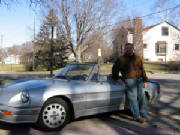 Aaron and His Alfa Romeo Spider
Aaron 4/2006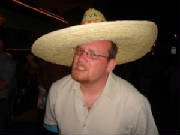 Aaron drunk in Mexico 2006
I met Aaron in a Minnesota Yahoo Chatroom year and years ago, and we have managed to become close friends. I give him backrubs and he takes me to the movies for payment (good deal all the way around).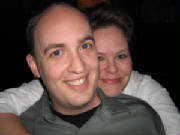 Andy and Shawn 4/2006
Shawn 4/2006
Shawn is a sweet boy that I met at The Townhouse. We always have lots of good laughs together.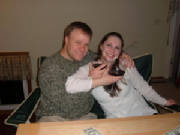 Jamie and CK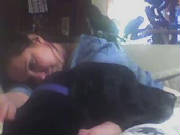 Jaime and Sir Woobies 2/2006
Jaime and Samantha 2006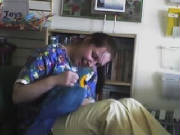 Jamie and Samantha 2006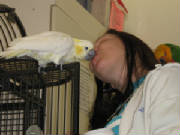 Jamie kissing Lily with Nemo on her shoulder
I have known Jaime Pajak since Junior High. She recently became a veterinarian and is specializing in avian and herps. We volunteer together at MAARS and for the IRN. We share a lot of funny stories from over all the years.
.
Shawn Bakken
Shawn became a very good friend, very quickly this past winter. He has held me through a lot of tears and heartache, and I treasure our friendship greatly.
Maxx 4/2006
Maxx and I used to manage together at the Maplewood Perkins. We have stayed in touch and have many fun and crazy adventures everytime we get together.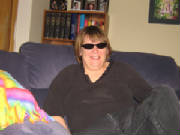 Sarah 5/2006
Tim, Levi, and Leah 5/2006
Sarah at MAARS 5/2006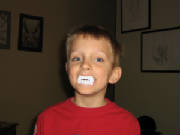 Levi the Vampire
I met Sarah at MAARS when she became a volunteer there. She has two beautiful sons that I adore, and luckily they get to play with my boys once in awhile.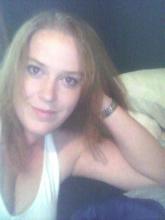 Lauren
I met Lauren, while watching football games at Dani's house. We seem to be able to team up and pick on people very well. She moved to Michigan not too long ago, for work purposes, and I keep hoping that she will return to MN very very soon.